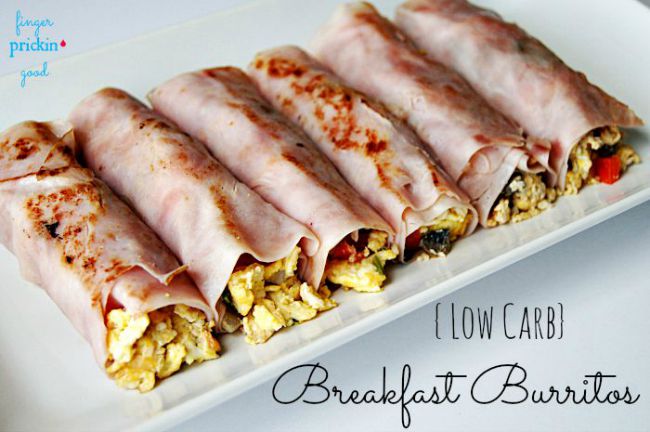 LOW-CARB BREAKFAST BURRITOS
INGREDIENTS:
Nonstick cooking spray
4 eggs
1 cup chopped veggies of choice (bell peppers, mushrooms, tomatoes, onions, etc)
Cheddar cheese, shredded (optional)
8 slices ham
DIRECTIONS:
In a skillet that has been sprayed with nonstick cooking spray, saute the veggies for a couple of minutes until tender.
In a small bowl whisk the eggs, and cheese (if using). Add whisked egg to the veggie mixture and scramble until cooked through.
Place ham slices (2 for each "burrito") on a flat surface and divide egg mixture evenly onto the slices. Roll up the ham slice around the egg mixture, creating a burrito.
Return ham rolls to the pan for a quick browning on top and bottom.
Nutritional information calculations will vary depending on type of ham and veggies used. However, each breakfast burrito will likely be under 5 carbs per serving.
CHICKEN TZATZIKI CUCUMBER BOATS
2 filled cucumber halves: 312 calories, 12g fat (2g saturated fat), 55mg cholesterol, 641mg sodium, 18g carbohydrate (10g sugars, 6g fiber), 34g protein. Diabetic Exchanges: 4 lean meat, 2 vegetable, 2 fat, 1/2 starch.
Ingredients
2 medium cucumbers
1/2 cup fat-free plain Greek yogurt
2 tablespoons mayonnaise
1/2 teaspoon garlic salt
3 teaspoons snipped fresh dill, divided
1 cup chopped cooked chicken breast
1 cup chopped seeded tomato (about 1 large), divided
1/2 cup fresh or frozen peas, thawed
Instructions
 Cut each cucumber lengthwise in half: scoop out pulp, leaving a 1/4-in. shell. In a bowl, mix yogurt, mayonnaise, garlic salt and 1 teaspoon dill: gently stir in chicken, 3/4 cup tomato and peas.
Spoon into cucumber shells. Top with the remaining tomato and dill.
Health Tip: Skip the peas for a fast and refreshing low-carb lunch or supper.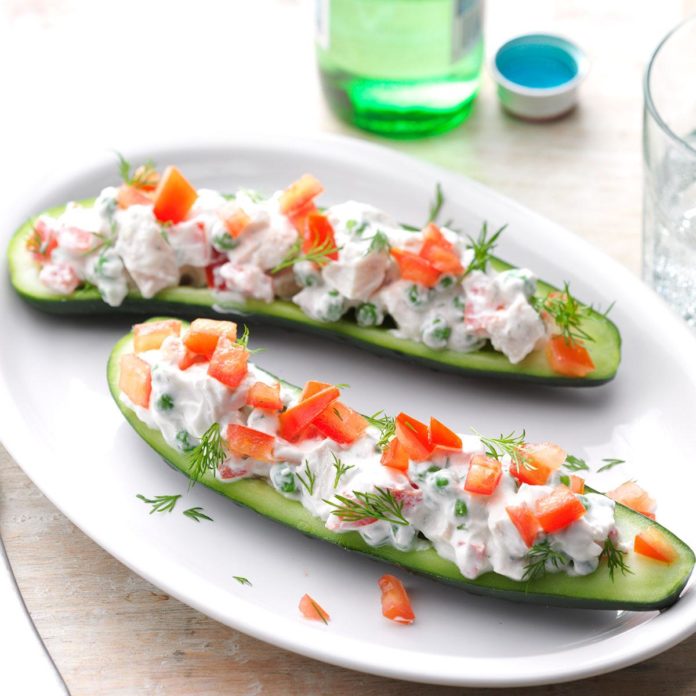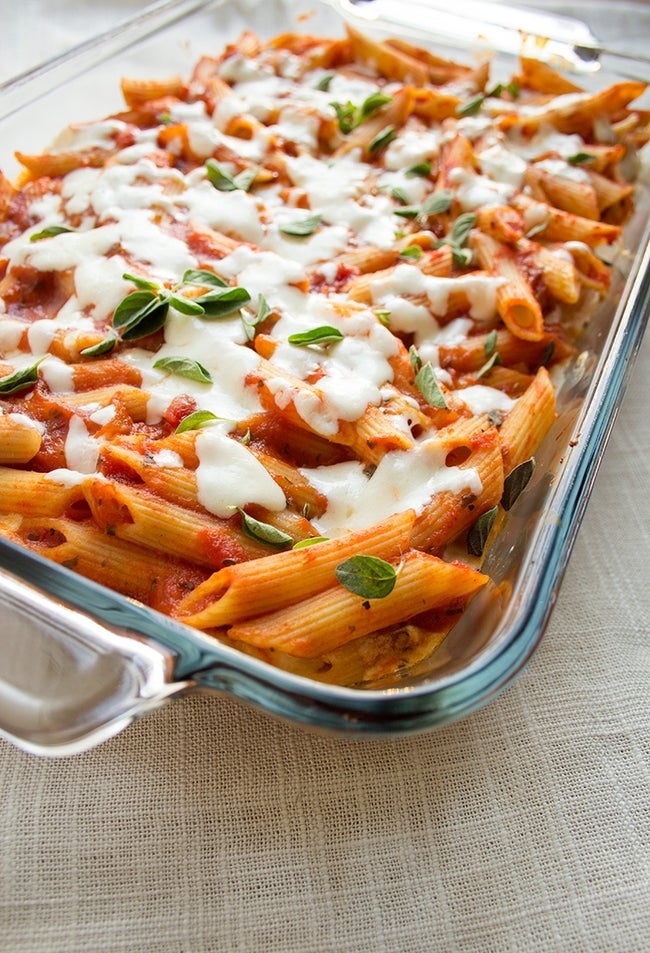 THREE CHEESE PENNE
INGREDIENTS:
1 (13.25-ounce) box whole wheat penne pasta
1 teaspoon extra virgin olive oil
½ small onion, diced
1 tablespoon minced garlic
1 (23.25-ounce) jar light pasta sauce
½ teaspoon dried basil
½ teaspoon dried oregano
¼ teaspoon salt
¼ teaspoon black pepper
½ cup low-fat cottage cheese
½ cup part-skim ricotta cheese
1½ cups shredded reduced-fat mozzarella cheese
2 tablespoons chopped fresh parsley
DIRECTIONS:
Bring a large pot of salted water to a boil over high heat. Cook the pasta to al dente according to the package directions. Drain and set aside.
 In a large skillet, heat the olive oil over medium-high heat. Add the onions and garlic and cook until the onions have softened, 3 to 5 minutes.
Reduce the heat to low and pour in the pasta sauce. Stir in the basil, oregano, salt and pepper. Cover and cook for 5 to 7 minutes, stirring occasionally.
Preheat the oven to 350°F. Coat an 8x8-inch baking dish with cooking spray.
Meanwhile, in a medium bowl combine the cottage cheese, ricotta, and 1 cup of the mozzarella.
Remove the sauce from the heat and stir in the cooked pasta.
Transfer half of the pasta to baking dish. Evenly spread half of the cheese mixture on top. Then add the remaining pasta followed by the remaining cheese mixture. Sprinkle the remaining ½ cup mozzarella on top.
Bake uncovered for until the cheese is melted, 18 to 20 minutes.
Serve garnished with the parsley.
Nutrition Information
Per Serving: (1¼ cup)
Calories: 284
Fat: 7g
Carbohydrates: 44g
Fiber: 7g
Sugar: 8g
Protein: 16g